g.spa Singapore – 24 Hour One-Stop Spa Destination
g.spa is one of the quite popular spas in Singapore. Here offers a variety of treatments for both women and men. The following address and telephone number g.spa and customer reviews.
Address and Telephone Number

102 Guillemard Rd, # 02-02, Singapore 399719
+65 6280 8988
Website: gspa.com.sg
Opening hours: 24 hours
The Facilities g.spa Singapore
Sauna & Steam room
Men & Ladies hot and cold pools
Relaxation Lounge
Treatment Rooms
Couple Rooms
VIP Rooms
Seminar Room
Price list for g.spa Singapore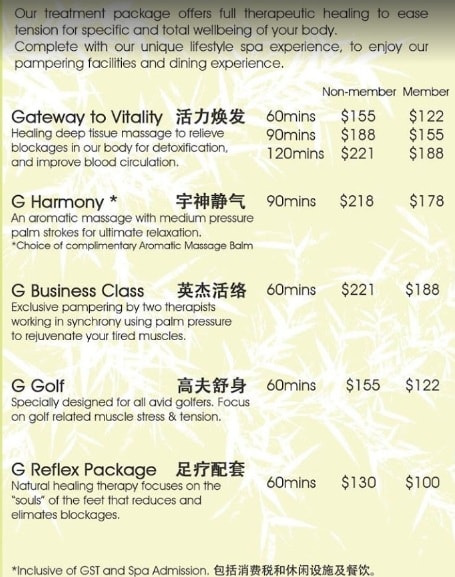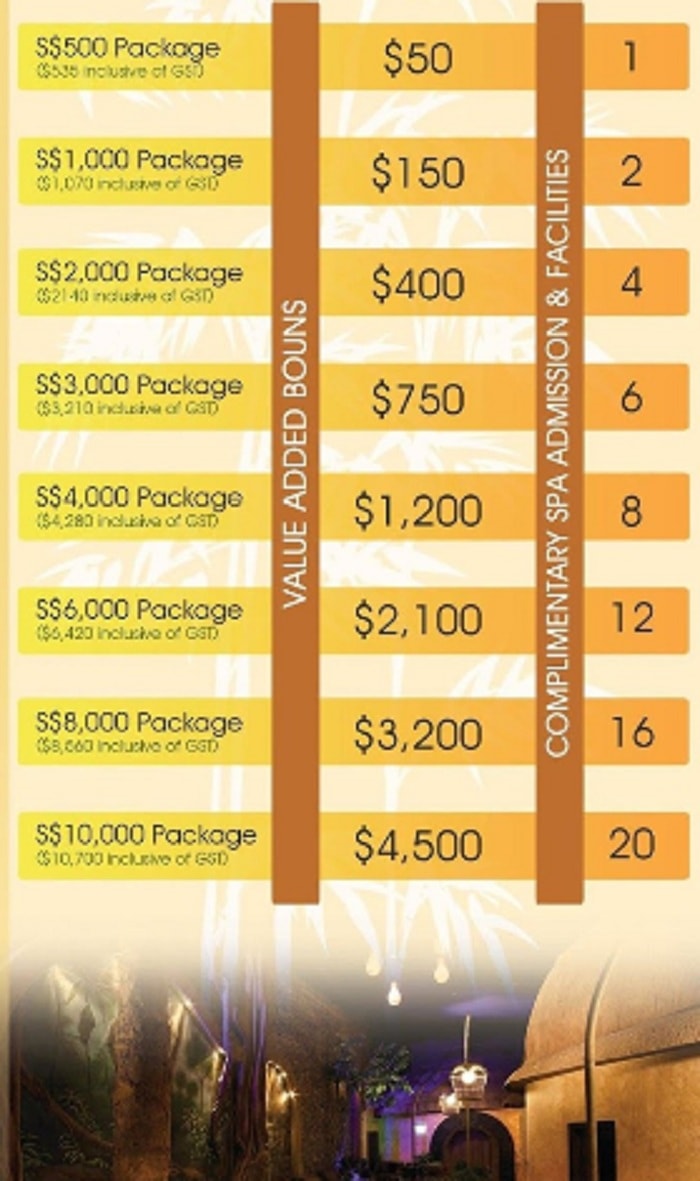 g.spa Singapore Customer Reviews
Reviewed by Jojo Nehls
Great place to relax at a very affordable rate even for non members. the facilities are very good and well maintained.
Reviewed by Ashray R
Great hot water pool and sauna. Hygenic facilities. The shower area could use some renovation. Come here only if you appreciate the hotwater spring and dry sauna experience. Food selection sucks.
Reviewed by Shane S Kang
Great massage, and nice dishes you can order as part of the massage fee. Worth the price in my opinion
Reviewed by gordontan84
Love the place. Really a place to run away to relax and clear your mind.
Reviewed by Panagiotis Papagiannopoulos
I love this place! Great spa.. for men and women the proffesional masseurs have deep knowledge of the human body and they do exactly what is needed so as t makw us feel relaxed and painless after 1h massage!
Also there is a rest area where you can have a quick bite, coffee, tea or juices! The prices are realistic not too expensive, considering always what they offer.
Reviewed by Dawn Goh
Sauna & Jacuzzi. Worth going once. If you can't stand people snoring at the resting place, please bring an earpiece along. Zzzzzzz. Food choices is actually quite little. Overall the place is quite classy and relaxing.
Reviewed by Thew Guat Hoon
Great place to relax, they got 1st time promotion by buy the admission ticket at Q10 and Shopee.
Reviewed by Chia KunXiang
As always, one of the return spot for 24hrs spa and facility for individual or group rest, relax and chiong. Group meeting possible. Corporate package advisable. Hope there are better packages to encourage membership signup. Alternative parking at HDB or office space nearby.
Reviewed by anh le ngoc
Great place to chill out the ralaxing for spa. Location is convenient for traveling and price is reasonable too.
Reviewed by Grace Lim
Make your money worth by setting aside at least 3 to 4 hours to spend at the spa. Have some snacks, order a meal and have a drink, do these while waiting for your service. Enjoy a dip in the jacuzzi, go for a sauna or steam bath and destress before or after. There are also alot of food options around the area so it is really convenient.
Reviewed by Damon Wong
One star taken away only because I know of a place in Singapore that has a better jacuzzi.
Otherwise this is a very legit alternative to going for a staycation for 2. You can nap on the sofa, eat all the food, drink all the drinks. And pick from a variety of massages to suit your mood.
Not many have lived to tell the tale. Actually during my visit there, I did see someone dip fully in. And I remember thinking to myself, what is the guy made of? Service is good, no hard sell to get you to buy a prepaid arrangement so you can enjoy member rates.
Reviewed by Robin Blixt
Sauna-game is quite strong. Dry sauna has a water dispense button that you can press every 5th min to push up the humidity. Steam is very hot and smelled fresh of mint. Cold plunge is veeery cold compared to most places. Couldn't even stay for a minute. Bonus for small ice towels / ice bath making hot/cold routine very efficient and fun.
Where it lacks for me is the decor, and the food is… OK. Also can be a bit noisy, ideal to come in group or with friends and perhaps not alone for peace. For that I recommend Yunomori which is nearby.
Reviewed by andrew bachmann
This place would be great if it was not for all the smokers in the no smoking area by the hot pool and the other bad behaviour tolerated by management despite being informed over a long time.
Reviewed by kit wong
Nice place for relax and destress. Hot pool and sauna avaulable for both the male and female section. Nice cafe where they serve a variety of dishes ranging from western cuisines to local food such as Nasi Lemak or Hokien Mee etc. Facia service available. Massuers are very well trained and experience and make you feel very relax after the massage. Food reflexlogy is also available.
Reviewed by Isabella
really good place to chill out if you want some ME time. I chilled at the Lougne for some coffee and dim sum after which went for a nice relaxing massage and soak myself in the jacuzzi. Didn't feel like going home after cause it's way too tranquil and relaxing hence went for a foot massage afterwhich and it's dinner time! Dinner was surprisingly pretty good given the fact it's FREE. 5 stars
Reviewed by Greyson Chuan
Good service and nice food, though the option of food choices could be more. Sofa bed was comfortable, but some don't have the controller for the mini TV of the sofa bed.
Reviewed by Martin Tong
Very accommodating to our family situation and helped our daughter to have a great experience with her first spa experience.
Reviewed by Justin Ong
24 hour spa with unlimited food you can eat! Great place to relax and rejuvenate yourself! Various massage services are provided as well but with extra charges.