Tampines Polyclinic Reviews and Opening Hours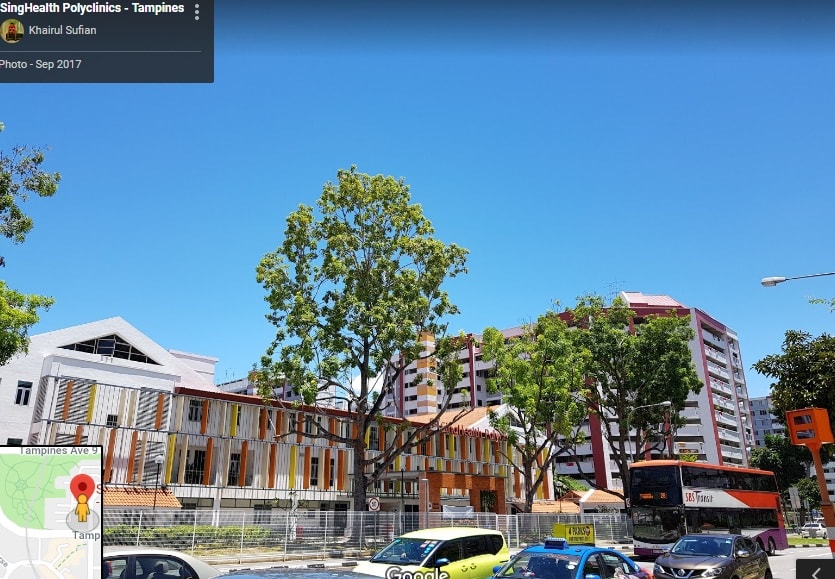 Tampines Polyclinic is one part of SingHealth Polyclinic Singapore. The Following is a review and important information about Tampines Polyclinic :
Location :
General Information :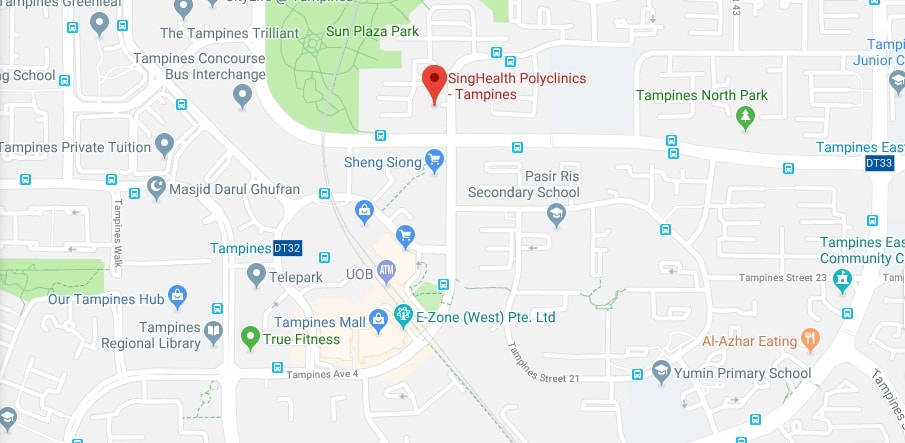 The Address : 1 Tampines Street 41
Opening Hours : 8AM–12PM 2–4:30PM
Call Centre : 6643 6969
Email : [email protected]
X-Ray & Mammography : 6783 6680
Nearest MRT Station :
Tampines MRT – transfer to Bus No. 19, 291, 28, 29, 81, 293
Nearest Bus Interchange/Bus Stop :
Bus Stop along Tampines Ave 7
Bus No: 28, 291, 293, 29, 81, 19,
Bus Stop along Tampines Ave 4
Bus No: 21, 27, 15.
Tampines Polyclinic Reviews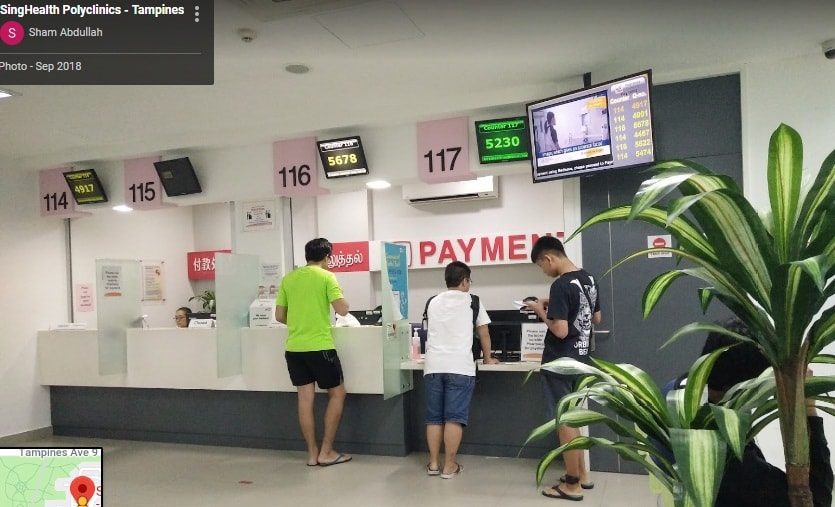 Review By Narah Singapore
I was very impressed with a young Malay doctor that saw me yesterday during my visit to the poly clinic. He was very attentive, patient and polite asking a lot of relevant questions pertaining to my condition . A very passionate doctor indeed. He even asked to nurse to look for me to add on more meds after I left the consultation room. The nurses were nice and everything was efficient for me as a subsidized patient. A far cry from what it used to be years back. Well done and thumbs up to Tampines Polyclinic.
Review By Rinie LYH
Much better if you could get an appointment before coming because a walk-in would probably take about 3 – 4 hours total, with waiting to see the doctor, and for medication. The new system currently has removed the need to get a queue number to register for the doctor. This has reduced the registration waiting time. However, waiting for the doctor still takes 1-2 hours. The time of the appointment that they give you may not be accurate. I came in at 8.15 and got appointment number said 9.20. It is 9.50 and I still have yet to see the doctor. However, it would still be good to come wait at the room 10 mins before so that you don't miss your number as the timings depend on each doctor. Staff are generally friendly and helpful.
Review By Chye Eng Ng
The waiting time to see doctors and collect your medication take an approximate of 2 to 4 hours. Some of the staffs (i.e. doctors, nurses and administration staffs) are not professional and rude. However, majority of the staffs are helpful and caring.
Facilities such as X-ray, dental, radioactive, laboratory and treatment rooms are available in this polyclinic. There are both outpatient and retail pharmacy.
If you need to charge your mobile phones, there are charging stations for mobile phones powered by Singapore Powers.
Review By Peter Eng
Subsidized health care. Constantly improving. There'll always be nicer and less nice staff, but the overall organization is as fast and effective as one can hope for a place catering to primary health care.
Review By Eugene Chia
Now by appointment. But the medicines collection still very slow!
Review By Pathma Krish
I had a bad experience. My child and I seated just in front of the appointment booking counter. The people who came after us getting their appointment. Almost an hour later, I approached the counter staff, she said her colleague put our paper on waiting list. When i asked for reason she simply said we didn't response when her colleague call my child name. I get really frustrated and feedback to her to be professional and don't lie to patients by giving this kind of reason. I wanted to approach their supervisor but she claimed that they went for lunch.
Didn't ask for extra service but feel frustrated the way they treated us.
Review By On Jing Hui
Had a unhappy experience at my first time visiting. Aft consultation I keep asking the staffs what's the next step. They just told me wait for the medicine but never tell me that I have to put the paper the a box. So I just sit there and wait for nothing almost 2hrs before I turned out.
Review By Patrick Chang
Bad management in the control of patients. Appointment timing are never kept, have to wait and hour or more even with confirmed time. Medical staff are under high stress n not professionally trained. Even security are not doing its work n with POOR attitude. Lab services are well below standards.
Review By Shuai Li
The register staff is a machine, when my Mom carry the baby to counter Said we see doctor for the cord, they just give us a queue no. for jaundice test. Waste around one and half hours, and pay the full payment, just with the referral letter from the doctor, To KK emergency!!! When I feedback to them, next time pls check first then give Q no., do not just give the Q no. Then doctor cannot treat the issue! The the staff talk rubbish herself and say the staff give us the Q no. is a part time staff!!! Wa Lao. I come from China.
More Tampines Polyclinic Reviews Here
Other Polyclinic : 
Pasir Ris Polyclinic Reviews dan Location
Bukit Batok Polyclinic Reviews and Location
Bukit Merah Polyclinic Patient Reviews
Popular Serach : 
tampines central clinic
clinic assistant tampines
tampines polyclinic dental charges
dental clinic tampines
tampines women's clinic
tampines polyclinic dental
family clinic tampines
tampines polyclinic appointment