Sengkang Polyclinic Reviews and Opening Hours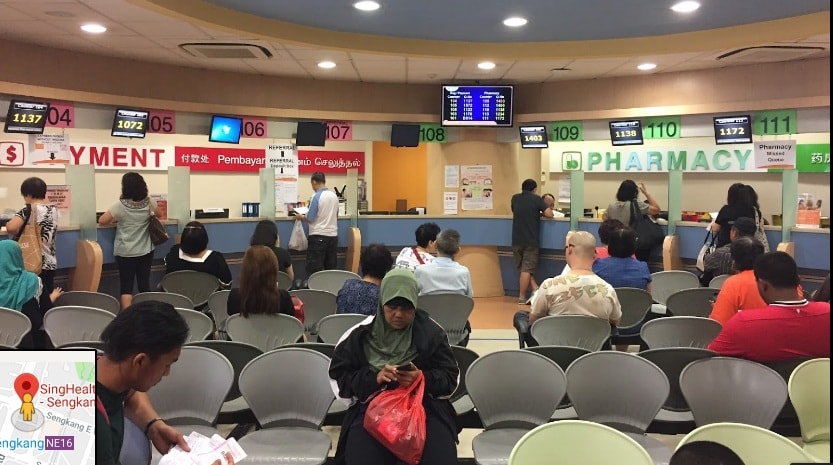 Sengkang Polyclinic is one part of SingHealth Polyclinics Singapore. The Following is a review and open hours of Sengkang Polyclinic :
Location :
General Information :
The Address : 2 Sengkang Square
Call Centre : 6643 6969
Email : [email protected]
Opening Hours : 8AM–1PM 2–4PM
X-Ray & Mammography : 64897713
Nearest MRT Station :
Sengkang MRT – within walking distance
Nearest Bus Interchange/Bus Stop :
Sengkang Bus Interchange
Bus No: 87, 156, 80, 83, 86, 159, 163, 965, 371, 372,
Bus Stop along Sengkang East Way
Bus No: 156, 161, 159,
Sengkang Polyclinic Reviews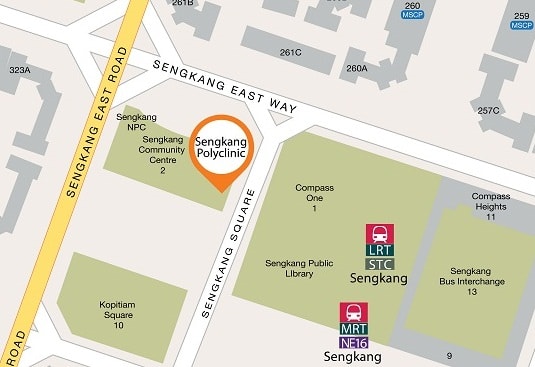 Review By Alan Koek
The directions a little confusing but still okay. It is advisable to take stairs to L2 because the reg number is calling out quite early by the counter staff.
There are water coolers and hand sanitisers provided (thoughtful ideas), and air-con environment. There are also priority seats as well.
Waiting time is long. (EDIT) Do remember to drop your doctor's prescription and referral, else your turn will not be called
Review By A Chef and A Mom
Visited sengkang polyclinic for pap smear today. This was my first visit to a polyclinic here. Going by overall negative rating, I was pleasantly surprised. The registration was smooth ad waiting time was barely 30 minutes,I had reached an hour earlier. The nurse conducting the test was very kind and patient. She seemed senior & experienced.she explained the whole process before the test.was very kind and patient in answering my questions. I didnt have to see a doctor, so my visit ended soon after the test. Payment was also very swift as there were more than one counters. Overall a very pleasant and good experience.
Review By Heng Min Zhi
Good directional signage within clinic, helpful staff at entrance, excellent and user-friendly online appointment systems, automated check in and registration, and automated payment machines at the end of visit. Charges were reasonable and medical and nursing personnel were matter of fact and professional.
Review By Lin Tan
I saw quite a lot of bad reviews about SK polyclinic but I must say.. today's experience was rather good. The whole system seems to be very much improved. I only spent 1.5hr in total which includes 2 dr visits, blood test & schedule for next ultrasound appointment. The dr & nurses are very friendly & professional. At the end of visit, I just made my payment at the kiosk. I was able to reschedule my next appointment using the app. I suggest if you want to visit the polyclinic, please make an appointment prior to that….
Review By Sangeeta Selvan
Sengkang polyclinic has great efficient system in place. Friendly staff. Spent less than an hour for doctor's consultation, payment and collectiom of medicines. I had pre booked my appt slot which may have aided in the seamless and fast service. Overall experience is satisfactory.
P.S: for nursing mothers there are 2 nursing rooms at level 3.
Review By Julia Tay
Very efficient. Well planned with minimal waiting time. Im so impressed and delighted with their service.
Review By H2 O
Polyclinic conveniently located in the neighbourhood hartland next to MRT station and bus interchange with plenty of dinning shopping banking library postage community centre cinemas entertainment and amenities. Services are available in all varieties and whole year all-round. Popular for Sengkang residents from all works of live. Free wifi.
Review By liling tan
We were concerned when we read the review and we needed to bring the newborn to take the Jaundice test. But the staff nurse was professional at handling our child and the doctor was truly concern about the mum too. The reception and registration stuffs were friendly too.
Review By AL Tan
Been bringing my son for vaccinations and check ups for the past 1 over year, nurses been polite and helpful, waiting time is very short too.
Review By Nick Png
The flow of this polyclinic are very systematic. The wait are reasonably acceptable. The only down side for this polyclinic is that you need to travel between level 1 to level 3 for different purposes and there are only 2 lift serving all the patient
Review By Hitoshi Jun
Long wait time accompanied by impatient doctors. No idea whether diagnosis is accurate or not, better to visit private for better service if you can afford it/At the very least try other polyclinics.!
And it gets from bad to worse, based on my 3rd visit. Doctor diagnosis are rather sloppy than thorough, better to visit private clinics/hospital, or risk high chance of dying from chronic illness with serious complications due to lapse from these doctors. E.g, early cancer detection, heart complications, lung infections. Will be hard for these serious illnesses to be detected if the doctors are just eager to clear the queue count than to help patients properly
Review By Steve Lum
Be alert of their operating hours! Officially they shut at 4.30pm but you won't be able to get any services if you don't get a register number BEFORE 3:59pm!!!! No excuses whatsoever! Those aunties staff don't bother to even look at you! Not a single staff smile too.. If you noticed
Review By Rachel Tan
Always a bad experience with curt and unhelpful aunties workers, Long waiting hours and inexperienced trainer doctors.
Understand that the government subsidises the service, but if the original consultation price is 20 odd – 30 (similar to that of private clinics), then why is the service standard not on par? Once again am doubting the PAP…
Review By Jimmy Lim
Only 2 stars for now due to useless appointment system. Six weeks ago, I got appointment to consult doctor in Rm215 on 07Sep18 at 09:15am.
07Sep18, I came to Sengkang Poly Clinic at 08:42am to ensure to attend to my appoinment at 09:15am. But sadly, I had my consultation at 09:55am. Also, more time wasted.
Lesson learned: walk-in and appoinment scheduling is just the same.
Review By Nurul Ain
Went to see the doctor yesterday as i had a bad migraine that cause me straining my eyes . This doctor which his name is Shawn Goh Kuan Liang told me that i am fit to go back to work when im already having difficulty in opening my eyes . Told him that i wanted an mc as i am already in pain but he refuse to give me & he also refuse to give me any medication. What kind of doctor is this . I dont think he is fit to be doctor in the first place . Already waited 1hr and told me i can go back to work . Not like as if my workplace is just next door . Obviously his assessment sucks big time . Im sick thats why i went to see the doctor . If not i wouldnt even bother . This doctor should just go back to school and relearn everything especially his assessment.
Review By Colin Lim
Should have read the review by Alfred Kuet earlier and asked to change doctor when assigned to room 321, Leow Kee Fong. Similar experience this morning. Greeted him with a good morning but was not reciprocated. Seems uninterested in patient's condition, extremely rudimentary visual examination, even though when told the pain had been present for SEVERAL WEEKS. Did not offer option of doing an x-ray of affected area, there was an x-ray department there and remembered having done one back in 2009. Was told that the pain will go away EVENTUALLY but was not told WHEN to come back by if it doesn't. Apparently, he received the National Day Award for long service back in 2011. Not shaming him, just posting for public awareness. Yes I'm aware it's a subsidized rate we're paying, but does it warrant that level of medical care?
Review By Annabelle
Those outpatient doctors would scold you for being slow when your queue number is up and you are still not in the room 10 secs later or when you are telling them anything about your symptoms and being too slow to react maybe because they forget the fact that you are sick.
The queue system is ridiculous, you can literally go for breakfast/lunch and come back to the clinic and your number is not even up yet (and by that i mean be prepared to spend at least 2 hours doing nothing but wait). Once i had a really bad sore throat and told the doctor that the sore throat med by yours truly polyclinic doesn't work, do you know what he said to me ? "You have no choice we only have that med here do you still want it or not ?" Limited medicine range ?????
Nothing else needed to say any further. Might as well spend abit more to go see a private doctor for better, faster and more pleasant SERVICE.
Review By Alfred Kuet
A terribly bad experience consulting Doctor Leow Kee Fong from room 321. This old man has a serious attitude and no sense of responsibility and morale of a Doctor. He was just trying to shove us out of the consultation room without bothering to advice about my son's inflammation on his leg. We were trying hard to explain the history of the pain but looking at his face, you sometimes cannot blame the public for wanting to assault these irresponsible "CIVIL SERVANTS". Do not trust a single feedback (if it is) and perhaps interview patients diagnosed by him to prevent further by tarnishing of Sengkang polyclinics Reputation. Just browse through the feedback stars. For me , it's a zero but too bad I have to select at least 1 to post this article…..
Review By Valerie Teo
Even though i can understand there is alot of people trying to get to see the doctors but it is really toooo slow. I came at around 915 i waited to 1030 before i was finally only registered. After that i waited from 1030 to 12 and i still didnt see the doctor yet. Even though the doctors are good but it is seriously taking to long to just see the doctor,get the medicine and pay. I hope the time taken will improve.Not eveyone have the amount of time to be just sitting here waiting. The paper gave me a timing of 11.50 but even so at 12 plus i still didnt see the doctor.And also please train your doctors on so that they dont take to long on only one patient. I waited for my doctor but she takes too long on some patients. I can see that other room beside alrdy finish 2 or 3 patients while she only just finish 1. Please improve on the timing. Thank you.
Review By Shawaliyah Sulaiman
i did not know that polyclinics in singapore are under 2 different management. Until the poor service rendered to me when i switched from Bukit batok to Sengkang due to us moving homes. i had no issues having sending my 1st born for his vaccinations when in Bt Batok, a poly under National Healthcare group. Reminders were sent promptly via sms. Unfortunately for my 2nd born, i was told, the procedure is more lax, check ups are not as frequent, and one of your service staffs, dare to tell me that, on one of those days when i missed my daughter's vaccination, that they have never given any sms notification before!!!! when the fact is, i have received previous sms reminders before! when asked if i can do it another day, a simple reply was given to me – I DONT KNOW. if asked if they can help to find out if other polies under Singhealth which is able to do it, yet another simple reply – SHE CANNOT DO IT.
train your people well. if they don't have the heart to work dont. otherwise take example of how services are given by the National Healthcare group.
More Sengkang Polyclinic Reviews Here
Other Polyclinic Reviews :
Tampines Polyclinic Reviews and Opening Hours
Pasir Ris Polyclinic Reviews dan Location
Bukit Batok Polyclinic Reviews and Location
Popular Search :
sengkang polyclinic career
sengkang polyclinic payment
sengkang polyclinic tcm
singhealth polyclinic appointment
sengkang polyclinic food
sengkang polyclinic crowd
sengkang polyclinic review
tampines polyclinic booking